Guide To Creating Conversations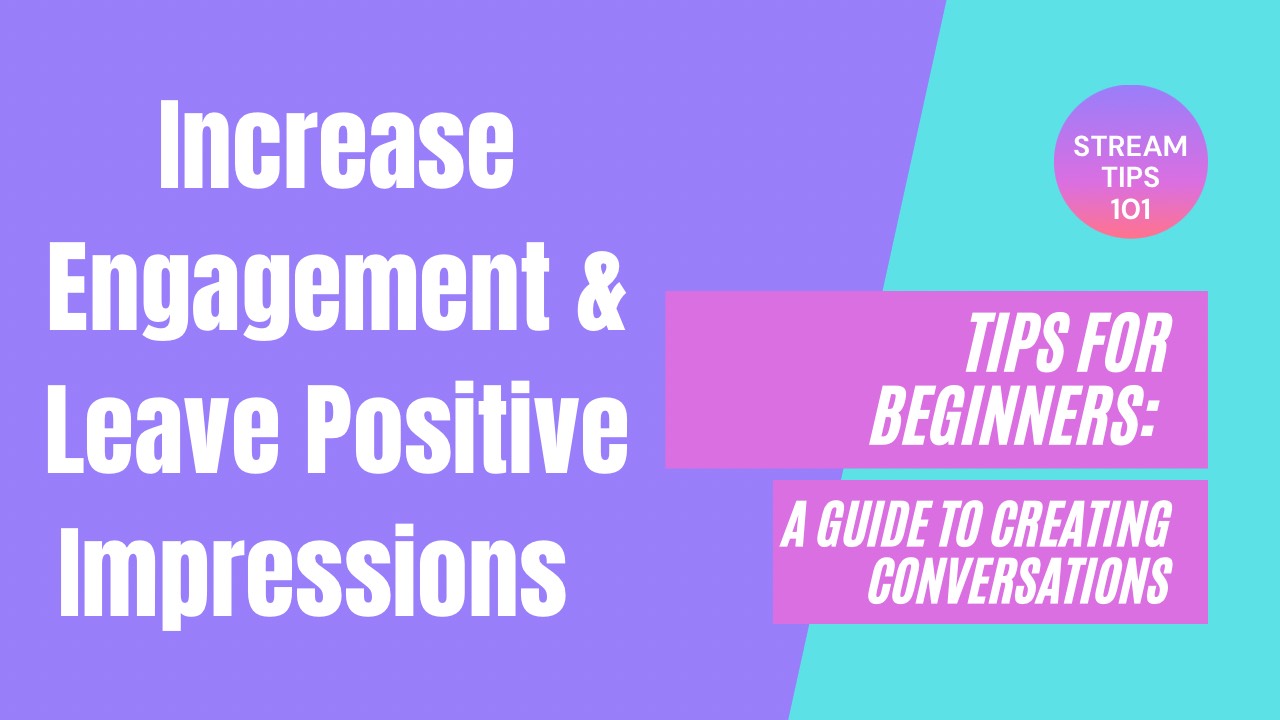 It's common for streamers to struggle with engagement. There are many various ways to approach a conversation with someone new. Here are a few great examples!
Step 1: Initial Interaction 
 First, check out some streams. In your free time, be sure to watch some streamers, preferably ones that you have something in common with whether it be community-based or gaming preference.
 After watching someone's stream, ask them if you can give them some input. Speak on things you may have liked about their stream. Maybe they had an overlay that you liked or a transition-scene that fits your style, maybe their game of choice just so happens to be your favorite or most played.
Tip: If you're currently watching someone's stream and their audio is too quiet or maybe it's echoing, let them know in a polite way as they may not notice. After their stream, ask what type of mic they're using, tell them what you enjoyed about their stream or what you would have done differently. Offer tips or advice if you have similar experiences as them. Most people enjoy other people's input especially if it's done politely and if it has potential to help someone's channel.
Step 2: Network While Off Platform
Networking in general is far more than just posting "I'm going live", it's the ability to connect with others of common interests. 
Utilize social media platforms and Discord channels, they are a great tool for conversation starters. For example, if you post a pic of your pet and someone responds to your photo by posting a picture of their pet shortly after, this is a perfect way to break the ice. Those types of conversation starters are great for those who are hesitant on speaking out first. It takes time for people to get to know you and that's okay. Help provide them with a topic to get to know you on. You can never go wrong with talking about animals!
Another way to start a great conversation with someone is by asking them when they're streaming next. By asking them how they're doing, how their day was, and when they plan on streaming again. Show them that you're interested in their lives and not just what they are doing on stream. Ask what types of games they're into or click on their profile to see which games they listed upon their reaction roles. Maybe you'll come to find that you both take an interest in a similar game. Ask to play a game together and before you know it, you just might collaborate on a stream.
Tip: Maybe you've come across a youtube video of theirs. If you enjoy it, be sure to let them know. Talk about their editing technique or the royalty-free music that they used. Talk about the content or game they've featured in that video. Ask for suggestions from them if you're interested in creating content on the same platform.
Step 3: Utilize Social Platforms 
 If you've been using the appropriate hashtags within your social media posts on other platforms, take some time throughout your day and search up similar posts by clicking the hashtag. Discover people that have similar interests as you. Instead of directly messaging them, as not everyone likes a stranger in their inbox, leave them a nice comment on a post you like of theirs. Talk about gaming, streaming, or whatever it is you both may have in common. Instead of going to their page and leaving a random follow, comment asking them to let you know when they plan on streaming/posting again. Do your best to catch their next stream or YouTube video release, etc.
Tip: Search for public posts with key words rather than focusing on hashtags. Twitter is a great platform for this method. If you come across any streamers that post online about the same games you enjoy, comment on their Tweets let them know they're doing a great job. Tell them you love the game they're playing, let them know you plan on visiting their stream next time they go live.
There's so many different ways and methods of networking, these are all genuine examples of great ways to start a conversation with someone. Getting to know someone before asking them for a collaboration is always a great idea. Be productive in your conversations, but be equally genuine. These examples highlight your core interest in appropriate ways, and you might even be able to make some new gaming friends!
PlayStation Plus December Releases!
PlayStation Plus membership is a recurring subscription fee taken automatically until cancellation. Subscription is required for online multiplayer. While a PlayStation Plus member there are additional features. Once joined you get exclusive access and member discounts that are the best deals on select games, add-ons, pre-orders, and more from the Playstation Store, Members can enjoy extra savings on top of regular PS Store promotional prices, early access to demos, beta trials, pre-orders, and other exclusive rewards and offers reserved for the PS Plus family.
Online multiplayer allows you to unlock the full potential of your games and lead your team to glory, ride into battle with your squad or go on breath-taking adventures with trusted allies. PS Plus online multiplayer opens new worlds in your favorite games, lets you play online with friends and compete in online tournaments, and is your invitation to join a global community of online gamers.
Per PlayStation's blog, the PlayStation Plus lineup sees you battling through bright fantasy universes and grim worlds shattered by zealous foes. It asks you to play the hero or see yourself become the villain. You haven't long to wait in deciding to lose yourself to the looter-slasher hybrid of Godfall, the careful combat of Mortal Shell, or play badly in Lego DC Super-Villains: all games will be available on Tuesday, December 7 until Monday, January 3.
PlayStation Plus members will have until Monday, January 3 to add those titles, plus three bonus PS VR games to their game library.
While you are a PlayStation Plus member, every month you will get to enjoy free monthly games. December's releases include:
Godfall: Challenger Edition | PS5 & PS4

Godfall is a looter-slasher set in a bright fantasy universe filled with heroic knights and arcane magic. Embark on an adventure in a fantasy action RPG that utilizes high-impact third-person melee combat to engage players as they hunt for loot, don legendary armor sets, and defeat vicious enemies. The Challenger Edition focuses on three unique modes: Lightbringer, Dreamstones, and the Ascended Tower of Trials. All three are endgame-level content, but you'll be immediately equipped with a spread of deadly weapons and skill points, letting you team up with up to two other players* in co-op. Perfect your build and smash your enemies. Challenger Edition's endgame co-op is compatible with all upgraded editions of Godfall & supports cross-gen play. Godfall: Challenger Edition players can upgrade at any time to the Deluxe Edition gaining access to both Godfall and Fire & Darkness campaigns.

Lego DC Super-Villains | PS4

It's good to be bad… Embark on an all-new DC Lego adventure by becoming the best villain the universe has seen. Players will create and play as an all-new super-villain throughout the game, unleashing mischievous antics and wreaking havoc in an action-packed story. Set in an open world experience within the DC universe, the Justice League has disappeared, leaving Earth's protection to their counterparts, who have proclaimed themselves as the 'Justice Syndicate'. It's up to you and a crazy group of misfits to uncover the intentions of Earth's new, strange, wannabe superheroes. Joined by renowned DC Super-Villains: The Joker, Harley Quinn, and countless others from the Injustice League, players will set out on an epic adventure.

Mortal Shell | PS4

Mortal Shell is a ruthless and deep single-player action RPG that tests your sanity and resilience in a shattered world. As the remains of humanity wither and rot, zealous foes fester in the ruins. They spare no mercy, with survival demanding superior awareness, precision, and instincts. Track down hidden sanctums of devout followers and discover your true purpose.

PS VR games**

Continuing from last month and as part of PS VR's 5th anniversary, three bonus PS VR titles are still available to add to your game library. Survive the horrors aboard a procedurally generated spaceship in The Persistence, tackle zombies in The Walking Dead: Saints & Sinners and showcase your sword skills in roguelike Until You Fall. These three games are available until Monday, January 3.

The Persistence | PS VR**

The Persistence challenges you to survive aboard a doomed deep space colony starship in the year 2521. Stranded, malfunctioning, and caught in the inexorable pull of a black hole, "The Persistence" is overrun with a crew mutated into horrific & murderous aberrations. It's down to you, a clone of security officer Zimri Eder, to make your way deeper in the decks of The Persistence to repair the systems and prevent the ship from being torn apart. Gather resources, upgrade abilities and fabricate an arsenal of weapons in this brutal sci-fi horror roguelike.

The Walking Dead: Saints & Sinners – Standard Edition | PS VR**

Face all the horrors that the living and the dead can offer in this new VR adventure in The Walking Dead universe. Travel through the ruins of walker infested New Orleans as you fight, sneak, scavenge, and survive each day unraveling a city-wide mystery within the iconic quarters. Encounter desperate factions and lone survivors who could befriend or foe. Whether you help others or take what you want by force, every choice you make has consequences. What kind of survivor will you be for the people of NOLA?

Until You Fall | PS VR**

Fantasy and synthwave collide in this physically active PS VR sword fighting game. Grow stronger as you battle through an awesome neon environment and strike down magic-infused monstrosities in this hack-and-slash roguelite. Move your arms and body to the synthwave soundtrack as you attack, block, cast spells, and dodge your way deeper into the heart of a neon fantasy world filled with magic-infused monsters. Equip yourself with a variety of gameplay-altering weapons as you continue to gain strength and strike down the monstrosities that lurk throughout this mystifying world.

Last chance to download November's PlayStation Plus games

PlayStation Plus members, this is your reminder to add Knockout City, First Class Trouble, and Kingdoms of Amalur: Re-Reckoning to your game library. All three titles will leave PlayStation Plus on Monday, December 6.
Check out Gamactica Portals for other PlayStation-related news.
Chucky New Series on Syfy!
Everyone in our and past generations should know who Charles Lee Ray is, known as Chucky! Chucky is a fictional character and the main antagonist of the Child's Play slasher film franchise. Chucky is portrayed as a vicious serial killer who, as he bleeds out from a gunshot wound, transfers his soul into a "Good Guy" doll and continuously tries to transfer it to a human body. The character has become one of the most recognizable horror icons and has been referenced numerous times.
Backstory
Charles Lee Ray was born on May 1st, 1958, in Hackensack, New Jersey. In 1965 when Charles was 7-years-old, after he returned home from trick-or-treating during Halloween, he decided to pick up an apple that he received and noticed a razor blade stuck inside of it. He bit into it regardless and smiled after the razor blade cut into his mouth causing it to bleed. During Charles' eighth birthday party, he used a mallet to knock the piñata to the ground but continued to aggressively smash it even after it had fallen. He overheard the news of a serial killer on the loose on the radio and delighted in plunging a knife into his birthday cake.
Later that night, an assailant broke into his home and stabbed his father Peter to death right in front of him. His mother Elizabeth attempted to hide in a closet with him, however, when the intruder found them, he was surprised to see that Charles had stabbed his mother to death, claiming to have "helped". The impressed killer gave Ray the advice of covering his tracks before leaving. After his parents' deaths, Charles was placed in the Burlington County home for wayward boys. In 1972 when Charles was 14, he was known for playing with the smaller children, particularly a boy named Eddie Caputo who would become his future accomplice. One day after tracking mud through the hallway he was yelled at by the Janitor, Charles slit the man's throat and cut off his hand so he could present him to the children as "Captain Hook" while playing Peter Pan. When the police came Charles decided to run away, leaving the Janitor's severed hand behind as a gift for Eddie before fleeing into the night.
At some point in the 1980s, Charles picks up a woman named Delilah and a red-headed woman from a nightclub and takes them back to a hotel. As the two-woman start making out with each other, Charles takes out a knife and holds it over the red-headed woman. Instead of being afraid, the woman tells him to stab her, Ray then spares her and stabs Delilah instead. Charles invites the redhead to finish her off as she takes the knife and starts stabbing Delilah. After killing her together, the couple starts kissing passionately on the bed where the redhead tells Charles her name is Tiffany before suggesting Charles "should be Chucky" and he, in turn, suggests she should be blonde. Chucky and Tiffany left Hackensack in 1987 after killing a man selling his car and driving out of town in it. Chucky and Tiffany moved to Chicago in 1988 and settled in their new apartment by ordering pizza and killing the delivery boy. Eventually, tensions rose between them when Tiffany found out Chucky was killing people without her, leading to an argument that ended with Chucky storming out.
Child's Play creator Don Mancini created a TV series, that was recently released. Chucky made his return to television on the October 12, 2021, premiere of Chucky, the sequel to Cult of Chucky. In this TV series, Chucky encounters 14-year old middle school student Jake Wheeler at a yard sale with his intentions to use him for his personal art projects. A younger version of Chucky as a human also appeared in flashback scenes which were portrayed by David Kohlsmith and Tyler Barish. The series went over so well they have already renewed it for a Season 2. You can read more about the upcoming new season here.
Everyone should know Rule No. 1: Always check for batteries in your killer toys. Chucky has busted out of the mint condition packaging to embark on another murderous rampage in his very first TV series. Created by the screenwriter behind the iconic Child's Play franchise, Don Mancini, the show enjoyed its concurrent season premiere on SYFY and USA on Tuesday night.
"I think it's so important to keep Chucky as a practical puppet effect, partly because it's important for the actors to have something to respond to onset … I also think it's important that Chucky have the feel of a doll, of a puppet. He should be a little bit herky-jerky," Mancini mentioned.
The show takes place in Hackensack, New Jersey, the hometown of Charles Lee Ray (the remorseless criminal who transferred his soul into the body of a Good Guy doll via an archaic voodoo ritual all the way back in 1988). When the red-haired doll we all know and fear turns up at a local yard sale, the sleepy American hamlet is plunged into utter chaos. Naturally, Brad Dourif is back to voice the hack-and-slash character, who was brought to life with the old-school puppetry methods utilized in the earlier films.
Chucky is the most murderous Good Guy Doll around and has found somebody new to play with. In Chucky, the new USA Network and SYFY series, the serial-killer possessed doll have found a new "owner," a teen named Jake Webber (Zackary Arthur). However, Jake is not the first person to have encountered Chucky, and the series premiere alludes to Chucky's first "owner," Andy Barclay. Andy first appeared in the first 1988 Child's Play and went on to face off with Chucky in several sequels. After a vintage Chucky doll turns up at a suburban yard sale, an idyllic American town is thrown into chaos as a series of horrifying murders begin to expose the town's hypocrisies and secrets.
Where is Andy during the events of the Chucky series? Andy is presumably still on his anti-Chucky crusade, and he calls Jake to warn him about Good Guy dolls. We know that Vincent will appear in the series, so it probably bodes well for Jake that he'll have a seasoned doll-killer in his corner. Now, if only Andy were able to kill Chucky and make it stick…
Andy (played by Alex Vincent in most of the films and in the series) made his debut as a 6-year-old in Child's Play, when he's gifted a Good Guy doll for his birthday. Unfortunately, as is so often the case, that Good Guy doll has been possessed by the spirit of a serial killer, the notorious Charles Lee Ray. After gruesomely murdering several people in Andy's life, Chucky attempts to transfer his soul into Andy so that he can be a real boy. However, Andy, his mother Karen (Catherine Hicks), and detective Mike Norris (Chris Sarandon) are able to defeat the doll.
If you missed it, don't worry — the season opener (clocking in at just over 46 minutes) is currently available to stream on the official SYFY app at no extra cost. The app itself is free to download, and viewers can either connect to their cable subscribers to access the full content or sign up for an NBCUniversal profile and use up to three free credits.
In the next episode, S1 Episode 8, Andy Barclay (Alex Vincent) takes a trip to visit the Wheelers in hopes of finally putting a stop to Chucky but is confronted by an eery Junior Wheeler (Teo Briones). Meanwhile, Jake Wheeler (Zackary Arthur) and Lexy Cross (Alyvia Alyn Lind) try to piece together the meaning behind Chucky's motives until they get an expected visit from an old friend.
To read more amazing stories like this one, check out Gamactica Portals
See – An Underrated Dystopia With a Story To Tell
Every once in a while, a show comes out that surprises me. At first glance, Apple TV's See sounds a bit… strange, and it seems to be largely flying under the radar with its first 2 seasons. It's about what happens when the world loses sight, and how the world adapts to this change. It's a very interesting concept, but it's one of those ideas that is far enough out there that you need good performances from the cast to make it actually work. That is where See truly shines IMO, even if some of the characters are VERY over the top. The cast does an excellent job of bringing these characters to life in a believable way, even if the world itself is a bit unbelievable at times.
The main characters that we follow are:
– Baba Voss (Jason Mamoa) – The main protagonist and adoptive father of the twins.
– Maghra (Hera Hilmar) – Baba's wife and mother to the twins.
– Haniwa (Nesta Cooper) & Kofun (Archie Madekwe) – The twins that we watch grow up over the first 3 episodes.
– Queen Kane (Sylvia Hoeks) – Queen of Paya and main antagonist of Season 1.
– Tamacti Jun (Christian Camargo) – The Witchfinder General, the leader of the Queen's army who hunt's and kills any witches that they find (Anyone with sight).
– Edo Voss (Dave Bautista) – Main Antagonist of Season 2, General of the Trivantian Army and Baba's brother.
– Jerlamorel (Joshua Henry) – The twins' biological father, who is sighted, and is trying to have as many sighted children as possible.
Overall, the cast does a pretty incredible job with bringing these characters to life. Jason Mamoa leans into the protective father role and does a great job telling that story. His relationship with his wife is believable and real, and both do a great job of feeding off of each other's energy. That paired with Nesta Cooper and Archie Madekwe as Haniwa and Kofun, and the core of this show puts on a great performance.
The first season takes us through the journey to reunite the Twins with their father, with the Witchfinders in pursuit. There are a ton of setpiece battles, exciting chases, and surprises along the way. There is also some political intrigue mixed in with how Queen Kane is handling a potential uprising, which is highlighted by a stellar (if over the top) performance by Sylvia Hoeks. She balances terrifying and crazy near perfect and has some truly chilling moments as the Mad Queen.
We also follow the pilgrimage of sorts that the Twins go through to find their biological father throughout the season. This sets up a confrontation at the end about what kind of world they should live in… Do they embrace the sight, or do they continue to live among the blind, hiding what they can do? Personally, I think they handled this well, and they really pushed hard into setting up for season 2.
Overall, 2 seasons in this is a really good show. The world seems like a bit of a stretch at times, but it's not so far out there that it breaks immersion. The characters are engaging, and the story is fantastic. If you have some time, and an Apple TV+ Subscription, I can't recommend See enough.
What are your thoughts on the show? Comment below and let me know!