Chucky New Series on Syfy!
Everyone in our and past generations should know who Charles Lee Ray is, known as Chucky! Chucky is a fictional character and the main antagonist of the Child's Play slasher film franchise. Chucky is portrayed as a vicious serial killer who, as he bleeds out from a gunshot wound, transfers his soul into a "Good Guy" doll and continuously tries to transfer it to a human body. The character has become one of the most recognizable horror icons and has been referenced numerous times.
Backstory
Charles Lee Ray was born on May 1st, 1958, in Hackensack, New Jersey. In 1965 when Charles was 7-years-old, after he returned home from trick-or-treating during Halloween, he decided to pick up an apple that he received and noticed a razor blade stuck inside of it. He bit into it regardless and smiled after the razor blade cut into his mouth causing it to bleed. During Charles' eighth birthday party, he used a mallet to knock the piñata to the ground but continued to aggressively smash it even after it had fallen. He overheard the news of a serial killer on the loose on the radio and delighted in plunging a knife into his birthday cake.
Later that night, an assailant broke into his home and stabbed his father Peter to death right in front of him. His mother Elizabeth attempted to hide in a closet with him, however, when the intruder found them, he was surprised to see that Charles had stabbed his mother to death, claiming to have "helped". The impressed killer gave Ray the advice of covering his tracks before leaving. After his parents' deaths, Charles was placed in the Burlington County home for wayward boys. In 1972 when Charles was 14, he was known for playing with the smaller children, particularly a boy named Eddie Caputo who would become his future accomplice. One day after tracking mud through the hallway he was yelled at by the Janitor, Charles slit the man's throat and cut off his hand so he could present him to the children as "Captain Hook" while playing Peter Pan. When the police came Charles decided to run away, leaving the Janitor's severed hand behind as a gift for Eddie before fleeing into the night.
At some point in the 1980s, Charles picks up a woman named Delilah and a red-headed woman from a nightclub and takes them back to a hotel. As the two-woman start making out with each other, Charles takes out a knife and holds it over the red-headed woman. Instead of being afraid, the woman tells him to stab her, Ray then spares her and stabs Delilah instead. Charles invites the redhead to finish her off as she takes the knife and starts stabbing Delilah. After killing her together, the couple starts kissing passionately on the bed where the redhead tells Charles her name is Tiffany before suggesting Charles "should be Chucky" and he, in turn, suggests she should be blonde. Chucky and Tiffany left Hackensack in 1987 after killing a man selling his car and driving out of town in it. Chucky and Tiffany moved to Chicago in 1988 and settled in their new apartment by ordering pizza and killing the delivery boy. Eventually, tensions rose between them when Tiffany found out Chucky was killing people without her, leading to an argument that ended with Chucky storming out.
Child's Play creator Don Mancini created a TV series, that was recently released. Chucky made his return to television on the October 12, 2021, premiere of Chucky, the sequel to Cult of Chucky. In this TV series, Chucky encounters 14-year old middle school student Jake Wheeler at a yard sale with his intentions to use him for his personal art projects. A younger version of Chucky as a human also appeared in flashback scenes which were portrayed by David Kohlsmith and Tyler Barish. The series went over so well they have already renewed it for a Season 2. You can read more about the upcoming new season here.
Everyone should know Rule No. 1: Always check for batteries in your killer toys. Chucky has busted out of the mint condition packaging to embark on another murderous rampage in his very first TV series. Created by the screenwriter behind the iconic Child's Play franchise, Don Mancini, the show enjoyed its concurrent season premiere on SYFY and USA on Tuesday night.
"I think it's so important to keep Chucky as a practical puppet effect, partly because it's important for the actors to have something to respond to onset … I also think it's important that Chucky have the feel of a doll, of a puppet. He should be a little bit herky-jerky," Mancini mentioned.
The show takes place in Hackensack, New Jersey, the hometown of Charles Lee Ray (the remorseless criminal who transferred his soul into the body of a Good Guy doll via an archaic voodoo ritual all the way back in 1988). When the red-haired doll we all know and fear turns up at a local yard sale, the sleepy American hamlet is plunged into utter chaos. Naturally, Brad Dourif is back to voice the hack-and-slash character, who was brought to life with the old-school puppetry methods utilized in the earlier films.
Chucky is the most murderous Good Guy Doll around and has found somebody new to play with. In Chucky, the new USA Network and SYFY series, the serial-killer possessed doll have found a new "owner," a teen named Jake Webber (Zackary Arthur). However, Jake is not the first person to have encountered Chucky, and the series premiere alludes to Chucky's first "owner," Andy Barclay. Andy first appeared in the first 1988 Child's Play and went on to face off with Chucky in several sequels. After a vintage Chucky doll turns up at a suburban yard sale, an idyllic American town is thrown into chaos as a series of horrifying murders begin to expose the town's hypocrisies and secrets.
Where is Andy during the events of the Chucky series? Andy is presumably still on his anti-Chucky crusade, and he calls Jake to warn him about Good Guy dolls. We know that Vincent will appear in the series, so it probably bodes well for Jake that he'll have a seasoned doll-killer in his corner. Now, if only Andy were able to kill Chucky and make it stick…
Andy (played by Alex Vincent in most of the films and in the series) made his debut as a 6-year-old in Child's Play, when he's gifted a Good Guy doll for his birthday. Unfortunately, as is so often the case, that Good Guy doll has been possessed by the spirit of a serial killer, the notorious Charles Lee Ray. After gruesomely murdering several people in Andy's life, Chucky attempts to transfer his soul into Andy so that he can be a real boy. However, Andy, his mother Karen (Catherine Hicks), and detective Mike Norris (Chris Sarandon) are able to defeat the doll.
If you missed it, don't worry — the season opener (clocking in at just over 46 minutes) is currently available to stream on the official SYFY app at no extra cost. The app itself is free to download, and viewers can either connect to their cable subscribers to access the full content or sign up for an NBCUniversal profile and use up to three free credits.
In the next episode, S1 Episode 8, Andy Barclay (Alex Vincent) takes a trip to visit the Wheelers in hopes of finally putting a stop to Chucky but is confronted by an eery Junior Wheeler (Teo Briones). Meanwhile, Jake Wheeler (Zackary Arthur) and Lexy Cross (Alyvia Alyn Lind) try to piece together the meaning behind Chucky's motives until they get an expected visit from an old friend.
To read more amazing stories like this one, check out Gamactica Portals
'Resident Evil: Welcome to Raccoon City' Post-Credits Scene & Director's Commentary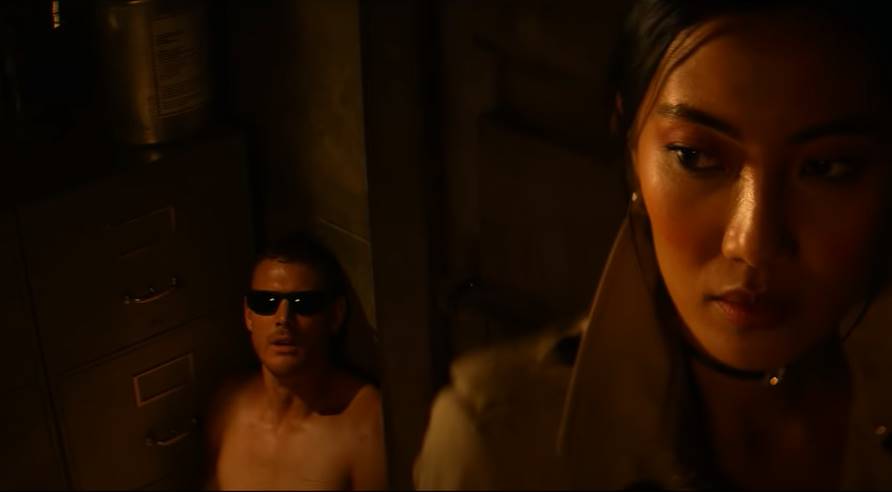 'Resident Evil: Welcome to Raccoon City' is now available on Digital HD ahead of its arrival on 4K Ultra HD, Blu-ray, and DVD next month on February 8th, and a new video has dropped on IGN to show off some of the extra features in store, including director's commentary.
The 4K Ultra HD and Blu-ray editions of the movie will include over 20 minutes of all-new featurettes, exploring the characters, creatures and all of those unsettling locations scattered throughout Raccoon City. There will also be a discussion of how the first two games were adapted for the big screen.
Check out a teaser below:
Netflix Unveils 'The Cuphead Show!' with Crazy Trailer
Netflix has dropped a trailer to unveil a brand new horror-comedy animated series to the popular streaming platform, and this one is based on the popular video game 'Cuphead'.
'The Cuphead Show' will make it's official arrival to Netflix on February, 18th, 2022, and it looks every bit like the crazy, off the wall, and somewhat creepy animation that made Cuphead the hit that it became.
According to the official rundown: "As the two scour their surreal homeworld of the Inkwell Isles in search of fun and adventure, they always have each other's back. Unless there's only one cookie left, in which case it's every cup for himself. "The Cuphead Show!" combines nostalgic delights, side-splitting gags, and a healthy dose of the heebie jeebies—especially when a ridiculously weird nemesis, The Devil himself, arrives on the scene to toy with our heroes."
The character-driven comedy series that follows Cuphead and his brother Mugman will debut 12 episodes, and it is not for kids.
Netflix Increasing their Subscription Fees!
Netflix offers a variety of plans to meet your needs. The plan you choose will determine the video quality and the number of screens you can watch Netflix on at the same time. With all of their plans, you can watch unlimited TV shows and movies, and play mobile games.
Netflix announced that they are increasing their subscription fees for all their plans for US and Canada subscribers. Their basic plan, which allows you to watch on one screen will increase to $9.99, Standard, which allows you to watch on two screens, will be $15.49, and their Premium, which allows you to watch on 4 screens, will be $19.99. In Canada, the premium plan rose from C$2 to C$20.99, and the basic plan was unchanged at C$9.99.
The United States and Canada are Netflix's largest region with 74 million streaming customers as of September 2021. The region accounted for nearly 44% of the company's revenue in 2021's third quarter, or about $3.3 billion.
These prices apply to new members and will gradually take effect for all current members. Current members will receive an email notification 30 days before their price changes unless they change their plan.
At $15.49 per month, the standard U.S. plan from Netflix now costs more than competitors. HBO Max, owned by AT&T Inc is currently offering an $11.99-a-month promotion for 12 months. The price of Disney+ is $7.99 a month or $79.99 a year.
Shares of Netflix gained nearly 3% to $533.84 on Nasdaq after Reuters broke the news of the price rises. They closed 1.3% higher at $525.69.
The increases, the first in those markets since October 2020, took effect immediately for new customers. Existing members will see the new prices in the coming weeks when they receive their monthly bills.
Netflix has added customers despite prior price increases, which shows its members have been willing to accept higher costs, Evercore ISI analyst Mark Mahaney said.
"This is evidence that Netflix has pricing power," Mahaney said. "We understand people have more entertainment choices than ever and we're committed to delivering an even better experience for our members," "As always we offer a range of plans so members can pick a price that works for their budget." "We're updating our prices so that we can continue to offer a wide variety of quality entertainment options," a Netflix spokesperson told Reuters.
Netflix had said it would spend $17 billion on programming in 2021. The company has not disclosed spending for 2022.
Follow Gamactica Portals, for more Netflix news!