Alec Baldwin's Fatal Shooting on Movie Set!
The authorities are currently doing an investigation in the death of the cinematographer Halyna Hutchins on the set of "Rust" in Santa Fe County.
Alec Baldwin was filming a low budget, $7 million film in October, and the gun being used as a prop by the actor Alec Baldwin went off on the set of "Rust," a Western being filmed in New Mexico, killing the film's cinematographer and wounding its director.
Santa Fe Police Department said they are in possession of the "lead projectile" fired from the gun used by actor Alec Baldwin when he shot and killed a cinematographer on the set of his new film, Rust.
Authorities are investigating to determine how a live round got into the gun that Mr. Baldwin was practicing with, why the crew members who inspected it on set failed to notice, and why the gun fired.
Additionally, Halls admitted to police not long after the shooting that he did not properly check the 1880s-era gun before declaring it a "cold gun" and handing it over to Baldwin for the rehearsal that went so horribly wrong.
Svetnoy previously confirmed he was standing next to Hutchins when she was shot and held her as she died on the New Mexico movie set.
As of now, Nobody has been charged in the set shooting, that killed Halyna Hutchins. The authorities so far have not placed any blame on anyone.
Alec Baldwin had remained silent throughout the investigation process after the fatal shooting.
He officially spoke out in a televised interview just this last Thursday night on ABC News. Alec Baldwin answered questions about the Oct. 21 shooting on the set of his Western film "Rust" where he fatally shot cinematographer Halyna Hutchins and injured director Joel Souza.
"I sat on that bench, and I said, 'This movie has made me love making movies again,'"
"I really thought we were onto something," he continued. "And then this gun goes off."
"Someone put a live bullet in a gun, a bullet that wasn't even supposed to be on the property," Baldwin said. "Someone is ​responsible for what happened, and I can't say who that is, but I know it's not me."
Alec Baldwin said "I don't know what happened on that set. I don't know how that bullet arrived in that gun. I don't know," Baldwin said. "But I'm all for doing anything that will take us to a place where this is less likely to happen again."
"I loved working with this woman," he said. "She was a joy. Everyone loved her as a person. And everyone admired her talent."
Baldwin mentioned that on the day of the shooting, he and Hutchins met to discuss an upcoming scene. In it, Baldwin was playing a cornered and badly wounded character who would draw his weapon on two foes.
During rehearsal, Baldwin said the film's first assistant director, Dave Halls, handed him a revolver. Baldwin recalled Halls telling him, "This is a cold gun" – industry jargon for a weapon that is either literally empty or loaded with non-firing "dummy" rounds.
"Now, what happened there, and why he made that statement, and what the realities were, I have, again, I have no idea," Baldwin said.
Alec Baldwin stated,  "I didn't pull the trigger"
To get the shot, Baldwin said he needed to cock the gun, but not fire it: "The trigger wasn't pulled.
"I cock the gun. I go, 'Can you see that? Can you see that? Can you see that?'" Baldwin said. "And then I let go of the hammer of the gun, and the gun goes off. I let go of the hammer of the gun, the gun goes off."
Gun in hand, Baldwin said he and Hutchins began blocking out the scene. She was directing his every move, he said: "Everything is at her direction."
"This was a marking rehearsal," Baldwin said. "And [Hutchins] says to me, 'Hold the gun lower. Go to your right. Okay, right there. All right, do that. Now show it a little bit lower.' And she's getting me to position the gun."
"She's guiding me through how she wants me to hold the gun for this angle," he said. "I'm holding the gun where she told me to hold it, which ended up being aimed right below her armpit."
Lisa Torraco, a lawyer for Halls, has since said that checking the weapon was "not his responsibility," and that "expecting an assistant director to check a firearm is like telling the assistant director to check the camera angle or telling the assistant director to check sound or lighting."
Torraco also would not confirm if Halls was the person who handed Baldwin the gun.
Next week, a two-hour "20/20" delves into the events ahead of the deadly shooting on the set of "Rust" and the pending investigations into what went wrong, and features the Baldwin interview and new interviews. "20/20" airs Friday, Dec. 10 (9:01–11:00 p.m. EST), on ABC and streaming next day on Hulu.
Rust gaffer Serge Svetnoy, and a second individual which will be likely many more lawsuits over the fatal shooting of cinematographer Halyna Hutchinson the New Mexico set of the indie Western was filed by script supervisor Mamie Mitchell.
"Alec Baldwin intentionally, without just cause or excuse, cocked and fired the loaded gun even though the upcoming scene to be filmed did not call for the cocking and firing of the firearm," reads Mitchell's complaint on claims of assault, intentional infliction of emotional distress "Mr. Baldwin chose to play Russian Roulette with a loaded gun without checking it and without having the armorer do so." Mitchell is represented by Gloria Allred, was the one who made the frantic 911 call to Santa Fe police seeking assistance for the mortally wounded Hutchins after the shooting. Mitchell told 911 operators, "We need help immediately." Allred said at the end of October that Mitchell "was standing very close to Halyna Hutchins and the director, Joel Souza, when both Halyna and Joel were shot."
As the Santa Fe Sheriffs Office investigation into Rust continues, the production itself has hired law firm Jenner Block to conduct an internal investigation into the events of that day; which is currently still ongoing.
To keep up to date with the Alec Baldwin Rust Shooting, follow Gamactica Portals.
'Resident Evil: Welcome to Raccoon City' Post-Credits Scene & Director's Commentary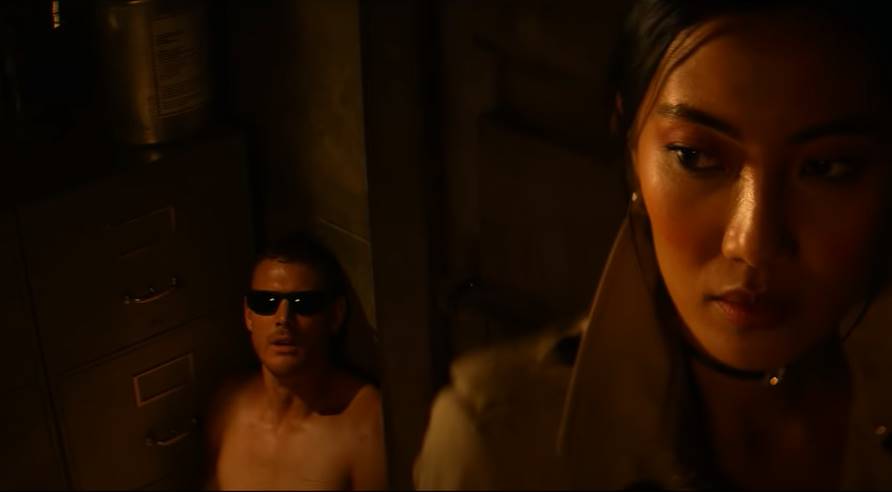 'Resident Evil: Welcome to Raccoon City' is now available on Digital HD ahead of its arrival on 4K Ultra HD, Blu-ray, and DVD next month on February 8th, and a new video has dropped on IGN to show off some of the extra features in store, including director's commentary.
The 4K Ultra HD and Blu-ray editions of the movie will include over 20 minutes of all-new featurettes, exploring the characters, creatures and all of those unsettling locations scattered throughout Raccoon City. There will also be a discussion of how the first two games were adapted for the big screen.
Check out a teaser below:
Netflix Unveils 'The Cuphead Show!' with Crazy Trailer
Netflix has dropped a trailer to unveil a brand new horror-comedy animated series to the popular streaming platform, and this one is based on the popular video game 'Cuphead'.
'The Cuphead Show' will make it's official arrival to Netflix on February, 18th, 2022, and it looks every bit like the crazy, off the wall, and somewhat creepy animation that made Cuphead the hit that it became.
According to the official rundown: "As the two scour their surreal homeworld of the Inkwell Isles in search of fun and adventure, they always have each other's back. Unless there's only one cookie left, in which case it's every cup for himself. "The Cuphead Show!" combines nostalgic delights, side-splitting gags, and a healthy dose of the heebie jeebies—especially when a ridiculously weird nemesis, The Devil himself, arrives on the scene to toy with our heroes."
The character-driven comedy series that follows Cuphead and his brother Mugman will debut 12 episodes, and it is not for kids.
Netflix Increasing their Subscription Fees!
Netflix offers a variety of plans to meet your needs. The plan you choose will determine the video quality and the number of screens you can watch Netflix on at the same time. With all of their plans, you can watch unlimited TV shows and movies, and play mobile games.
Netflix announced that they are increasing their subscription fees for all their plans for US and Canada subscribers. Their basic plan, which allows you to watch on one screen will increase to $9.99, Standard, which allows you to watch on two screens, will be $15.49, and their Premium, which allows you to watch on 4 screens, will be $19.99. In Canada, the premium plan rose from C$2 to C$20.99, and the basic plan was unchanged at C$9.99.
The United States and Canada are Netflix's largest region with 74 million streaming customers as of September 2021. The region accounted for nearly 44% of the company's revenue in 2021's third quarter, or about $3.3 billion.
These prices apply to new members and will gradually take effect for all current members. Current members will receive an email notification 30 days before their price changes unless they change their plan.
At $15.49 per month, the standard U.S. plan from Netflix now costs more than competitors. HBO Max, owned by AT&T Inc is currently offering an $11.99-a-month promotion for 12 months. The price of Disney+ is $7.99 a month or $79.99 a year.
Shares of Netflix gained nearly 3% to $533.84 on Nasdaq after Reuters broke the news of the price rises. They closed 1.3% higher at $525.69.
The increases, the first in those markets since October 2020, took effect immediately for new customers. Existing members will see the new prices in the coming weeks when they receive their monthly bills.
Netflix has added customers despite prior price increases, which shows its members have been willing to accept higher costs, Evercore ISI analyst Mark Mahaney said.
"This is evidence that Netflix has pricing power," Mahaney said. "We understand people have more entertainment choices than ever and we're committed to delivering an even better experience for our members," "As always we offer a range of plans so members can pick a price that works for their budget." "We're updating our prices so that we can continue to offer a wide variety of quality entertainment options," a Netflix spokesperson told Reuters.
Netflix had said it would spend $17 billion on programming in 2021. The company has not disclosed spending for 2022.
Follow Gamactica Portals, for more Netflix news!