Twitch Streamers Wanting a Higher Sub Split, Amazon who Owns Twitch Able to Afford doing so?
Here are the real economics of the #SubSplit market no one wants to talk about: (or maybe they don't understand)
1. Big streamers are a loss leader, every time someone who averages 5k (probably lower) goes live, Twitch loses money. Their paid subs will never be enough.

— Sam Chen (@djfluffkins) January 7, 2022
Twitch streamers are currently unhappy with Twitch only offering them 50/50 of subscriptions, which is less than their competitors are offering. Facebook Gaming recently changed it where their streamers get 100% of their subscriptions when purchased on the desktop until 2023. Due to this change with Facebook Gaming, Twitch streamers recently have requested that Amazon, the owner of Twitch which is a content-creating platform, pay them more than the current split amount that streamers receive on Twitch. If you compare 70% on YouTube and just 50% on Twitch, you'll see why Streamers are requesting for Twitch to offer them more subscription revenue.
FB Gaming and YouTube Gaming are completely different. FB Gaming money is different and their relationship with streaming services is different, as well the direct company is investing in them. They are not a purchase where it's a subdivision or an acquisition.
Youtube, they are owned by Google and has much more money than Twitch does and they could lose streaming and still be perfectly fine with their videos, just like everyone else is looking to create something with their live streaming. That is why your streams turn into videos after they are done and still attract people to them so that they can put advertising on them even after you are done depending on what you stream.
Unlike Twitch and YouTube, Facebook Gaming isn't keeping their streaming platform healthy from what I hear, but they do not have tiered subscription levels. Instead, each channel has a single base subscription. As a creator, you can custom-set the price of your subscription, anywhere between .99 and 99.99 USD. Your subscribers—often referred to as "Supporters"—unlock all channel perks with a single purchase. The lack of tiered subscriptions is definitely upsetting. Twitch is actually spending more money which is important to remember.
Facebook Gaming streamers miss out on the bonus income their counterparts receive from higher-level subs. However, the ability to set custom sub prices is a huge plus. On the one hand, if your channel can justify the higher prices, you can make more per sub than your typical Twitch creator. On the other hand, it allows streamers from other countries to set more affordable sub prices for their audience. After all, $4.99 costs a lot more if you're from a lower-income region of the world — or if your currency is prone to inflation.
Facebook also allows community sub gifting—something that YouTube currently lacks. However, the feature is restricted to mobile-viewers-only, which means you won't get any of that juicy 100% desktop sub revenue — at least not in gift-form.
Offering contracts with such large payments to content creators is costing Twitch, Facebook Gaming, and Youtube Gaming a lot of money as well.
Twitch can't change the small streamers split due to the fact they will lose money on small streamers, and that is why they actually have been putting more ads on Partner streams Amazon is their parent company but much like Mixer work Microsoft, of Twitch isn't making money how long will Amazon be ok with that? So if they invest in small streamers could be very disastrous.
A previous Twitch employee, Sam Chen, tweeted Mid-tier streamers make up for this loss (mid-level, in this case, is prob between 100-500, who knows with pandemic numbers). You're a size where your subs "likely" outnumber your viewers by a large margin. Twitch cannot be profitable without maximizing revenue from this group.
Smaller streamers probably make back what they cost Twitch, maybe Twitch makes money from the ad side. Bonus: See why Twitch wants bigger streamers to run more ads without a better share of ad money? So they can POSSIBLY get them to pay their share.
Why do big streamers cost Twitch money? Prime subs aren't free, serving video isn't free. Do you think Twitch doesn't have the tech to do 4K? They have some of the best video engineers (past and present), it's because it's expensive to serve 4k.
So what does this mean? Your best chance for Twitch to have a fair sub split is to adopt progressive taxation of the biggest streamers. The bigger you get, the less you get per sub. If everyone was offered a choice, I bet you most streamers wouldn't take this system.
Tencent is a very wealthy company and started the streaming platform Trovo to go up against the content creating platform Twitch. Tencent is the same company that owns PUBG and Riot Games, as well as having stakes in Epic Games, Ubisoft, and Activision Blizzard.
Trovo isn't the only and best choice, but the reason I mention them is they have a different relationship with their streaming platform. They are a Gaming company and their games are very successful they are more aware of what they are investing in.
Tencent has the income and uses its platform Trovo to promote its streaming service which is why they actually give extra money to their partners.
Trovo is Partnered with Gamactica, and Content Creators that are signed up with Gamactica get the additional benefits of SEO that is offered to their members.
 Trovo features tiered paid subscription options for each channel, starting at US$1.99, $4.99, and $8.99 which gives subscribers customizable rewards.
If Amazon, Facebook, and Google decide their Content Creating Platforms aren't making enough money could they actually have to close down their content-creating platforms like Mixer did?
Follow Gamactica Portals, to get all your Content Creating News!
Experts Say NFT Job Opportunities to Grow During Sales Boom
There may not be a lot of NFT-related job opportunities currently floating around the market, but experts believe that will all change as the NFT market continues to see a boom in sales and gain mainstream traction.
NFTs are digital certificates of ownership of collectibles that can be bought and sold, and they are already penetrating markets in gaming, and creating new marketing tech such as NFT SEO, which we have implemented at Gamactica.
"NFT capabilities have never existed before and employers are wrapping their heads around how to attract this new-age talent," Raj Kapoor, chief advisor at aCryptoverse said, during an interview with MoneyControl. "The growth in this sector has just begun and we will see a major uptick in the hiring space as NFTs move beyond the realms of digital art into the mainstream."
Trading volumes of NFTs reached nearly $11 billion during Q3 of 2021, marking a new 700% increase from Q2, according to analytics platform DappRadar.
"We also applaud talent and accurate executions much more than ever before," Pratik Gauri, founder of 5ire added. "What is also occurring with us is that immediacy remains critical at all times. Our staff needs to take this opportunity as something they are passionate about and have it in their blood to do well. There's plenty of help and coaching available and someone's always there to lend a hand, which gives the applicants a great opportunity to grow."
"I believe the platform for its real use isn't ready yet and it could become more practical for its users in the coming years," Chintan Jain, CFO of Amaze-World.com said. "The need to build practicality and infrastructure throughout the metaverse will lead to the growth and demand for NFTs. There is certainly no doubt that this is just the beginning of a new era for digital collectibles."
Twitter's Roll Out of NFT Profile Pictures Leads to Theft
Twitter recently rolled out a brand new feature for it's millions of users: officially verified NFT profile pictures that were intended for owners to show off their work, but it's already being compromised by those who are opting to steal the work and use it as their own.
NFT owners can now stand out on Twitter with hexagon-shaped profile pictures, and are only available to NFT owners. It allows a user to change the standard circle picture on Twitter to an actual NFT, one that is minted on the Ethereum blockchain only.
Then, once you link your crypto wallet to Twitter via Twitter Blue and/or iOS devices (for the time being), you would be good to go! The following crypto wallets are currently supported by Twitter:
Argent
Coinbase Wallet
Ledger Live
MetaMask
Rainbow
Trust Wallet
gm!

You asked (a lot), so we made it. Now rolling out in Labs: NFT Profile Pictures on iOS pic.twitter.com/HFyspS4cQW

— Twitter Blue (@TwitterBlue) January 20, 2022
However, now owners are worrying about a much more severe issue of theft, as an issue has popped up where people can right-click-save and image and attempt to use it as their own verified NFT profile picture.
"There's actually a MAJOR PROBLEM with the new Twitter PFP feature" NFT specialist Adam Hollander tweeted. "It appears to work for ANY NFT in your collection. Not just verified collections. That means someone can just right-click-save any NFT, mint it, and then use it as their PFP  You were so close Twitter. Why"
Justin Taylor, Head of Consumer Product Marketing for Twitter, responded:
"We don't want to limit this to just verified collections, that would be wrong, and non supportive of the broader nft movement. Anyone SHOULD be able to mint anything and make it their nft. We do show if a collection is verified in the detail page though!"
The conversation continued, with Hollander stating:
"All due respect, that's not good enough. Part of what makes this feature important to #NFTs is the ability to prove ownership at a glance. You've created a system that still allows people to right-click-save & benefit. Verified collections need to be marked ON the hexagon."
Twitter certainly has an issue on it's hands, and with the new implementation of NFT profile picture impacting the platform, it is fair to question how it impacts the artists, brands, businesses, and related NFT SEO campaigns surrounding them that operate on the platform.
Microsoft after Acquisition of Activision Blizzard Will Keep Call of Duty on PlayStation!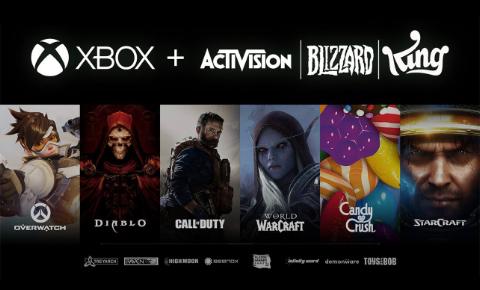 Previously, it was announced that Microsoft announced they are acquiring Activision Blizzard in a $68.7 billion all-cash deal, inclusive of the company's net cash. This will be the largest deal ever in the tech industry. Once the transaction closes, Microsoft will become the world's third-largest gaming company by revenue, behind Tencent and Sony.
The deal is expected to close in the fiscal year 2023. The acquisition still needs to go through the hurdle of getting approval from the government, which could take a long process before they get the approval of the acquisition.
Current CEO of Xbox Phil Spencer has confirmed via Twitter, "Had good calls this week with leaders at Sony. I confirmed our intent to honor all existing agreements upon acquisition of Activision Blizzard and our desire to keep Call of Duty on PlayStation. Sony is an important part of our industry, and we value our relationship"
Activision Blizzard, has been embroiled with a lawsuit and sexual misconduct allegations that were occurring in the workforce. CEO and Owner, Kotick knew about these allegations, but he refused to do anything about them. The acquisition could possibly be a reason due to investors placing pressure on Kotick.
Microsoft, made an agreement with Kotick, that if the workforce conditions can show proof of a change, they would go ahead with their agreement of acquiring Activision. Microsoft stated that Activision was showing evidence of change, so decided to go ahead with the acquisition. Once the deal closes, the Activision Blizzard business will report to Phil Spencer, CEO, Microsoft Gaming.
Activision Blizzard CEO Bobby Kotick is reportedly planning on stepping down after Microsoft completes the acquisition. Kotick has been facing pressure to resign over the company's workplace misconduct scandal since last November.
Bobby Kotick stated, "What I told Microsoft is that I care so much about this company, that whatever role they want me to have, in making sure that we integrate the business and we get a proper and smooth transition, I'm willing to do," Kotick said. "However much time that takes, if it's a month after the close, if it's a year after that, I just care that the transition goes well." "is just staying CEO and running the business," but that reporting to Spencer "is an easy thing to do."
Follow Gamactica Portals, to stay up to date about Microsoft acquiring Activision Blizzard!